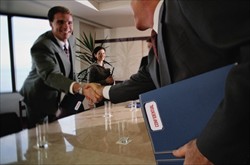 If you're looking for a firm large enough to offer a full array of tax, accounting, payroll, and business services, but small enough to know you on a personal basis, then look no further!
With over 25 years experience I have prepared thousands of tax returns and have no problem working with the IRS or state agencies to advocate for my client's rights.
My dedicated staff and I are available to answer any questions you may have and will work dilligently to find the correct answer. No client's needs are too big or too small, we handle everything from weekly payroll and compliance to individual and business returns to IRS audits. We treat our clients like family and will work advocate aggressively for what is right.
Please stop by our office today or give us a call to set up an appointment!
Best Regards,
Michael L. Doyle, CPA
Review Our Professional Services
You're always welcome - always part of the family. Won't you see how much we can offer you by browsing through our website, and then when you're ready to call us, remember your initial consultation is completely free.